Hotel Info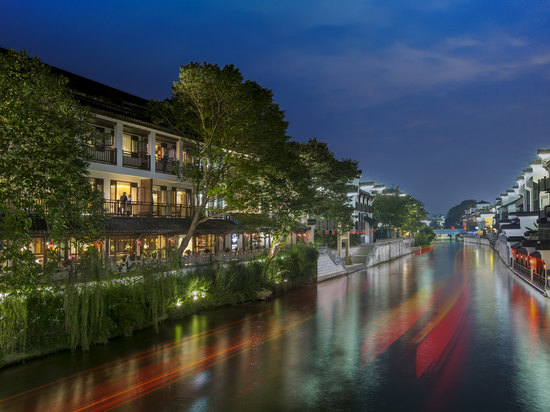 SSAW Boutique Hotel Nanjing Confucius Temple(Ye Bo Qin Huai)
, is built on the Qinhuai River, adjacent to the Confucian Temple Scenic Area and across the river from the ancient Taoye Ferry. It is about 200 meters from Exit 3 of Metro Line 3.
This is a boutique cultural hotel tribe created by Nanjing Confucian Temple Cultural Tourism Group and the well-known domestic mid-to-high end selected hotel brand Junting Hotel Group. The hotel tribe takes the ten-mile Qinhuai River as its axis, and connects the rich tourism resources from Dongshuiguan to Xishuiguan through diversified forms such as homestays, inns, and boutique cultural theme hotels. Context.
The hotel takes the Eastern Jin as the background, and Wang Xianzhi's painting and calligraphy as the design theme. The 24 culturally-themed rooms are divided into two series: river view and riverside room (street view). Through the warm and elegant public space, the free painting and calligraphy culture is combined, and the art is profound Six stories of the Six Dynasties and fascinating love legends, 'Peach leaves and peach leaves, you don't have to walk across the river. But I have nothing to worry about. I welcome you.'
You can enjoy the Qinhuai River from the hotel's river corridor, indoor restaurant or private terrace of the river-view rooms. Here, the hotel provides Jiangnan's delicate and personalized private custom service; private custom breakfast, authentic local food and green and healthy Western meals; personal guide service, planning different scenic tour routes according to each guest itinerary He Confucius Temple Scenic Guide Service. In Qinhuai, at the Calligraphy and Painting Theme Hotel, it's nice to meet you!